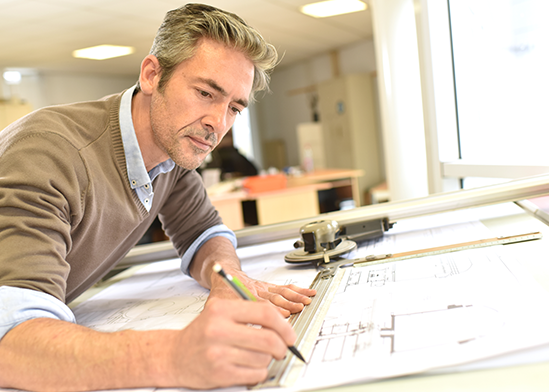 30-year experience
We are a family design company with traditions and over 30 years of experience. Our priority is to provide services at the highest level with the least involvement of our customers' time.
We provide design services for Investors (comprehensive designs), Construction Contractors (executive designs, workshops, as-built documentation). In addition, we cooperate with other Project Offices as subcontractors.
The scope of our activities
DYNAMIC AND STRENGTH CALCULATIONS OF STRUCTURES, CONSTRUCTION DESIGNS – BUILDING,
EXECUTIVE AND WORKSHOP DESIGNS, MULTI-DISCIPLINE DESIGNS OF INDUSTRIAL, RESIDENTIAL,
MUNICIPAL, AGRICULTURAL AND GENERAL BUILDINGS INCLUDING SOIL RESEARCH, STATICALLY AND DYNAMICALLY LOADED FOUNDATIONS AND COST ESTIMATES.
We specialize in designing steel, aluminium and reinforced concrete structures.
We have developed our own system of ready-made steel halls, and for several years we have been designing modular buildings in Sweden and Poland.
• We provide expert opinions on cubature facilities, tanks, flyovers, shelves and chimneys, including those requiring work at height or the qualifications of a construction expert.
Our designers have the necessary qualifications to carry out design works in all civil engineering sectors and have extensive experience gained in projects carried out throughout the country and abroad (see projects).
We have been a member of the Polish Chamber of Steelworks for over 25 years.
We are licensed as a Construction Expert.
Designing is supported by professional software (e.g. BoCAD-3D and Advance), which ensures high quality of documentation and significantly shortens the project implementation time.
Depending on the needs, we prepare documentation in Polish, English and German.
Our Designers
HAVE THE NECESSARY QUALIFICATIONS TO CARRY OUT DESIGN WORKS IN ALL CIVIL ENGINEERING SECTORS AND HAVE EXTENSIVE EXPERIENCE GAINED IN PROJECTS CARRIED OUT THROUGHOUT THE COUNTRY AND ABROAD.
WE PROVIDE COMPREHENSIVE SERVICE OF THE DESIGN PROCESS (FROM OBTAINING THE NECESSARY CONDITIONS AND DECISIONS, THROUGH THE DESIGN TO SUPERVISION DURING THE IMPLEMENTATION AND ACCEPTANCE OF INVESTMENTS).
QUALITY AND EXPERIENCE
WE PREPARE DESIGN DOCUMENTATION MEETING THE REQUIREMENTS OF: